STEM MBA – MBA + Concentration
Remember, our STEM MBA automatically qualifies you for 3 years of employment authorization in the US
Release the power of hands-on learning and real-world applications to lead the crucial aspects of modern business operations. Our STEM MBA program is an innovative, dynamic, and cutting-edge educational experience that combines technical expertise with business principles to drive innovation and create impactful solutions.
This accelerated program provides you with the knowledge and skills to become an expert in analyzing vast amounts of data, uncovering patterns and trends, and establishing relationships to create strategies to drive growth.
Regardless of your industry, this program will enable you to pinpoint correlations across areas, taking your management skills to the next level. The unique combination of our STEM MBA curriculum is ideal for individuals who want to drive change and create an impact in today's rapidly evolving technological landscape.
What exactly is the OPT, and how can it help an international student?
OPT stands for Optional Practical Training. OPT is a temporary employament authorization that benefits the F-1 visa holders (Student Visa) who complete their academic program, Bachelor or Master, in the United States. "Eligible students can apply for up to 12 months of OPT employment authorization." (https://www.uscis.gov/)
In other words, OPT is a temporary employment authorization that the U.S. Government offers graduates. Hence, they apply the knowledge and skills developed in their academic programs to excel in their professional development due to hands-on work experience in the U.S.
So, why do we say three years of authorization to work?
Because there is more than one type of OPT, and there is an OPT Extension known as STEM, like our STEM MBA.
The STEM OPT Extension means that if you have earned a degree that scopes Science, Technology, Engineering, or Math (STEM) fields, "you may apply for a 24-month extension of your post-completion OPT employment authorization". (https://www.uscis.gov/)
In other words, you could get the OPT (12 months employment authorization) + STEM (24 months extension) for a total of 3 years employment authorization, and guess what?
Our STEM OPT automatically enables you to receive these benefits!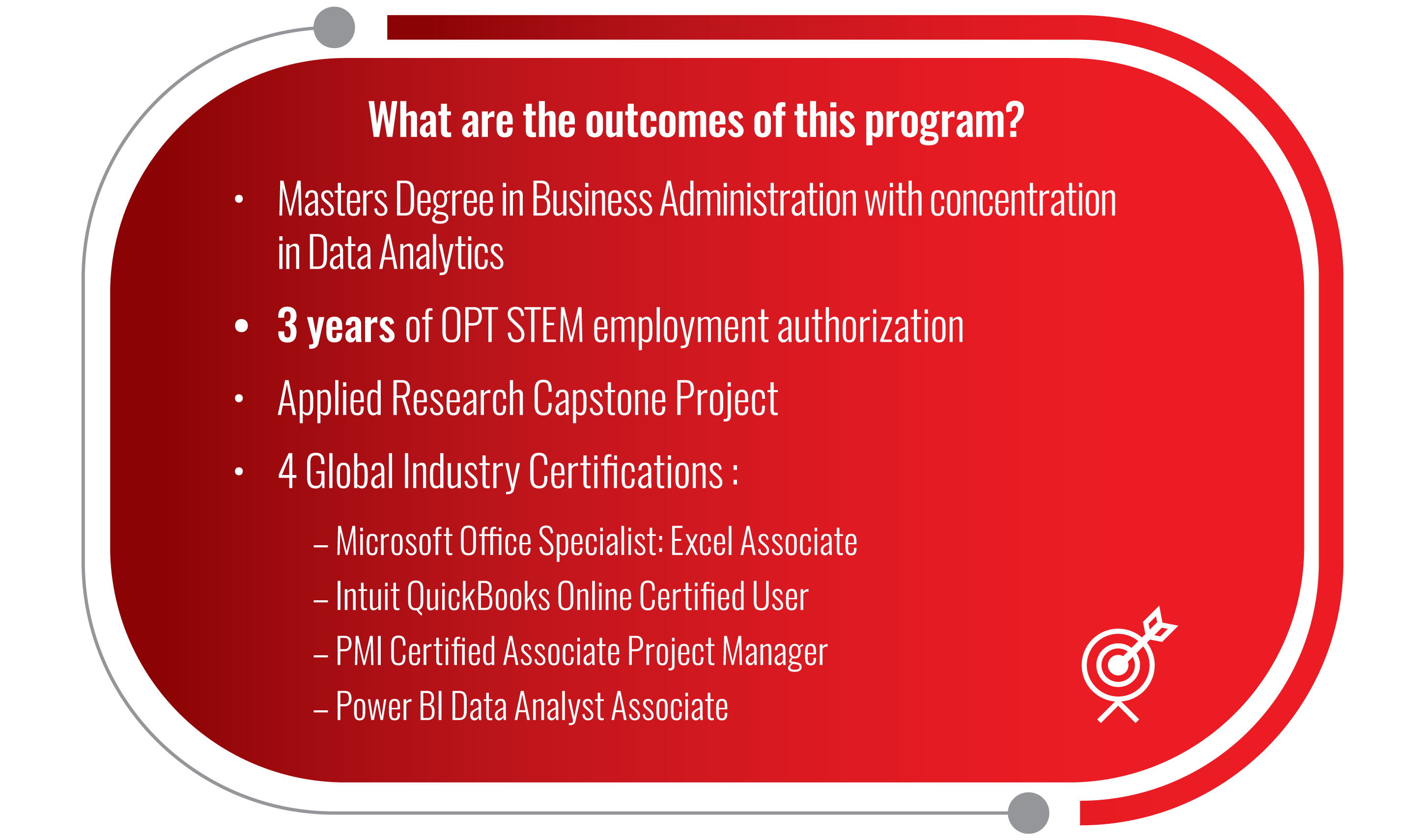 What are the benefits of studying the AU Traditional MBA?
Leveling Intro Bootcamps at NO EXTRA COST (Includes White Belt Six Sigma)
Credit Validation Exam to validate up to XYZ credits (Optiona
Creation of personal brand coaching
Training on self-marketing techniques
FREE Leadership and Technical Conferences
Marketing industry experts' conferences and workshops
FREE access to LinkedIn Learning (annual subscription $239.88 + taxes)
FREE access to Burlington English standards-based curriculum for English language acquisition (annual subscription $100 + taxes)